After a three day travel marathon that included 4 countries, 3 trains, 2 ferries, and 1 night in a hotel room we arrived in London for our flight back to the good old U S of A. Here're the details:
Day 1 - Thursday:
Woke up at 5:30 am, packed up the bags grabbed a couple pastries (not sure, but Hvar must be known for their pastries.. they have these flaky cherry filled things that are incredible) and headed to the dock to catch the 6:30 ferry from Hvar to Split.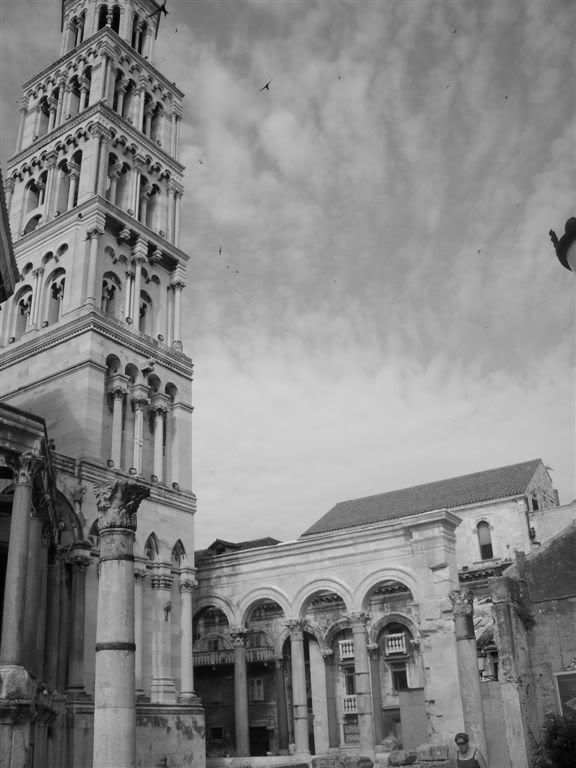 Arrived in Split around 7:30 and took care of business first: Located the Jadrolinja international terminal and purchased our deck passage for the 9:00 pm overnight ferry to Ancona, Italy. After we purchased the tickets we dropped our bags at the left luggage counter at the bus terminal, and went off to explore the city for the next 10 hours.
Lucky for us (becuase we had nowhere to rest or wash up during the day) it was oppressively hot that day. We started our day by wandering around the city where we encountered a huge open air market that sold everything from whole skinned goats (seriously - skinned goats hanging by their legs from the stall roof) to tennis shoes to some sort of mysterious alcohol sold in myriad different used bottles (coke bottles, wine bottle, water bottles, etc...). After checking out the market (we didn't by anything - unfortunately we had no room in our packs for a dead goat) we went into the old town and saw Diocletian's palace (built as a summer home for the emperor during the heyday of the Roman empire). The cool thing about the palace is that it has pretty much been in continuous use for the last 1500 or so years.. it is currently occupied by souvenier shops, restaurants, and hotels. By this time (about 10:30 am) we were already hot and sweaty (and pretty much out of interesting things to see) so we stopped at the coolest (as in not hot) cafe we could find and had some omelets for breakfast while we listend to a quartet (plus two guitarists) of what looked to be ex-yugoslavian military - pretty tough old guys - singing. They were really good. After breakfast we went back to the port, checked our e-mail (in a place with AC) and picked up our chess board from the left luggage counter. We went back to the same cafe and played a few games of chess. We pretty much spent the rest of the day wandering through the old town with very frequent stops for cool drinks.
We boarded the ferry a little after 8:00 pm and started off for Italy. The Croatia/Australia world cup match was going on as we left and when we were about 100 yards off shore Croatia apparently scored.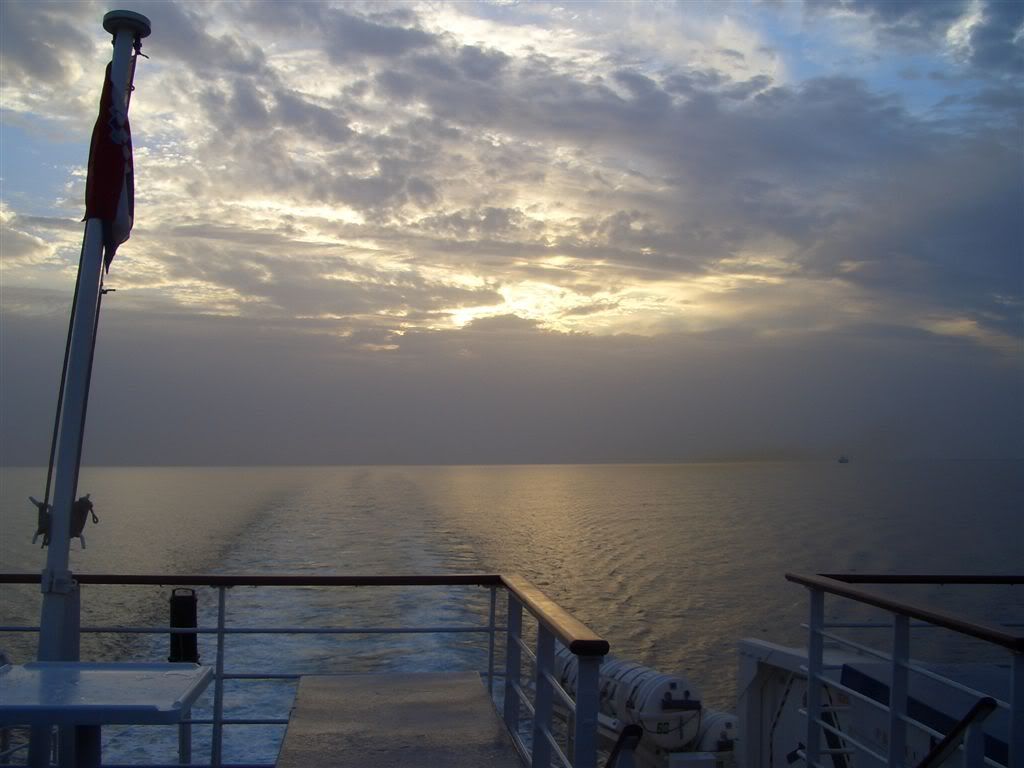 The entire town (Split is a big town -- couple hundred thousand people) erupted into a simultaneous roar immediately followed by dozens of nautical flares shot from various places within the city. About the same time, all of the big ferries (the international ferries are almost like little cruise ships) blew their fog horns to add to the celebration.
After we were under sail and settled in we struck up a conversation with an Italian guy (Federico), an Irish girl (whose name I can't remember right now), an Aussie (Clare - she reminded me of Natalie portman for those of you who know how I feel about Natalie Portman), and a Kiwi (Nessa). Federico who was 24, was in Croatia on business - he sells auto parts to distributors; Nessa and the Irish girl were cousins in their early 20's and were heading to Venice to wrap up a month long trip that included Italy and Croatia. They met Clare on the boat into Dubrovnik (the same way we met Sarah) and had been traveling with her in Croatia. Clare was in the middle of an abbreviated 4 month walkabout (most Australians do a year right after college). She had been to Switzerland, France, Italy, and Thailand, and was on her way to Greece for the final month of her trip. We sat in the lounge, talked, and passed around a water bottle of homemade grappa "moonshine" that Joey and I purchased from a waiter at a small family run restaurant in Hvar. Federico went to his cabin around 2:00 am and the rest of us passed out on our makeshift beds (laying in bar booths with feet on chairs).
Joey, Federico, Nessa, The Irish Girl, and Rob on the ferry from Croatia to Italy (Clare had already gone to sleep at this point).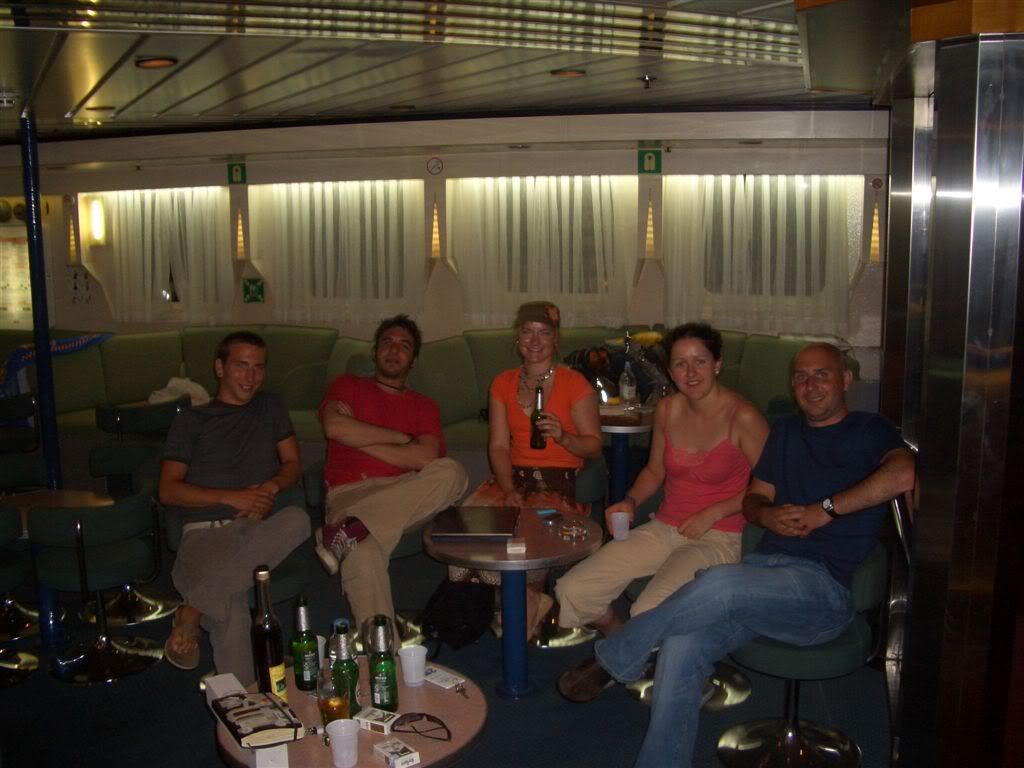 Day 2 - Friday
We woke up at 5:30 am the next morning to blaring techno music and the bartender yelling "Buon Giorno!, Good Morning!, Time to wake up!"
After we arrived in Ancona (a little after 7 am) we left Clare at the ferry terminal where she would start the 21 hour (!) ferry ride to Greece, and caught a bus to the train station with Nessa and the Irish girl. Our plan was to catch the 11:00 am train to Milan, but things went so smoothly that we were able to get on the 8:15 am train instead.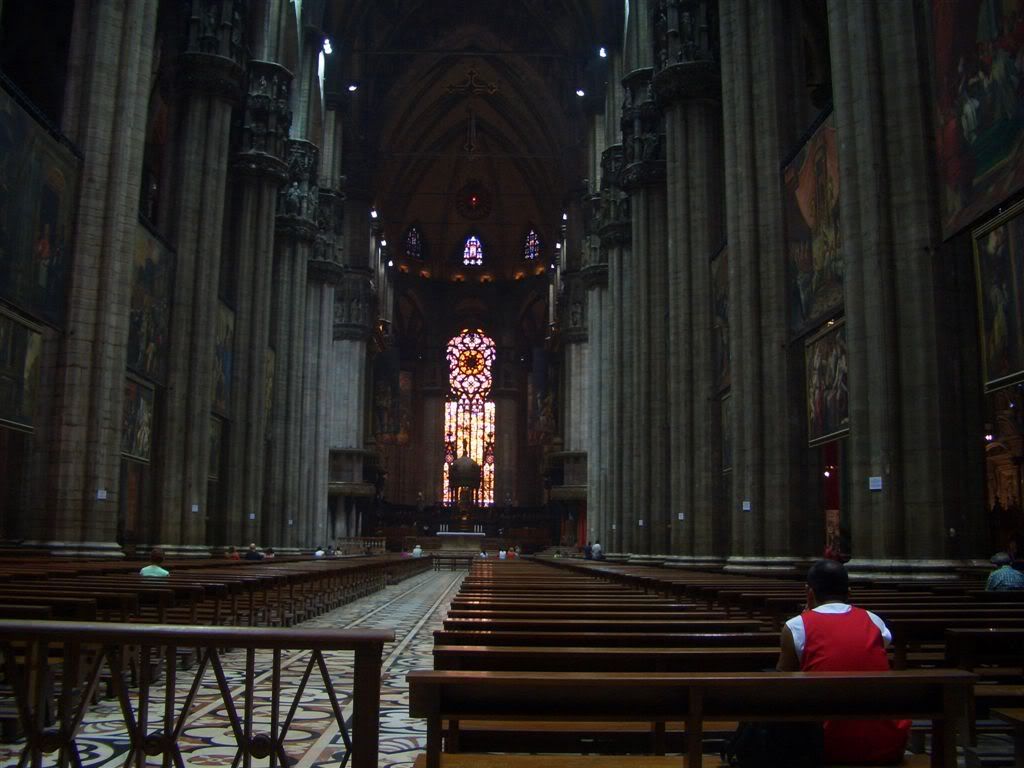 We arrived in Milan around 1:00 pm dropped our luggage, and went to McDonalds (we had to do it at least once). The food was actually pretty good but for the lack of condiments.
After lunch we planned to buy our tickets for the overnight train to Paris, but realized that we had left our eurrail passes in one of the bags. We went to the left luggage counter where I showed the attendant my claim check and asked him if I could retrieve one item. He gave me this look as if I was placing a terrible burden on him (I could see my bag sitting about 10 feet from where he was standing) and asked me to step aside for a minute. Then he left... I'm pretty sure he just went home for the day becuase I never saw him again. So I went to the back of the line, waited for another 10 minutes and when I got to the front, asked the new attendant the same question. He also told me to stand aside (by this time there were A LOT of people in the line) so I stood aside and waited for about 15 minutes. Finally I decided I would just retrieve my bag, pay for it, and recheck it (which meant I would have to repay the 3.80 initial checking fee). So I once again got in line waited, and when I got to the front again I told to guy I wanted to retrieve the bag. He once again looked all put out, and told me that it was not possible. I would have to retrieve ALL my bags. By this point, I was already a good 40 minutes into this operation that should have taken 5, so I said fine. So I got all three of my bags back, pulled out the tickets and went directly back to the drop off line to re-check them. At this point there were probably 30 people in the retrieval line, so the attendants decided to remedy this problem by abandoning the the drop off line. So, as the retrieval line got shorter, the drop off line got longer and longer. I waited at the front of the line for another 15 minutes before I was finally able to recheck my bags. After that hour long ordeal, I went to stand in the LONG line to buy the train tickets.
We planned to meet Mom and the Geigers at their train which would be arriving at 3:30. By this time it was a little before 3, so Joey waited for them while I went to buy tickets. While I was standing in line a saw two girls a ways in front of me, one of whom was wearing a Miami Golf T-Shirt. I talked to them briefly when the switchbacks in the line made it so that we were standing next to each other. They were from Medina Ohio and had just graduated from Miami in May (for those fellow Miami Alums reading - they lived in End Zone). A short time later I bought the tickets (which cost me an arm and a leg - all of the second class couchettes were full so we had to buy passage in a three bed cabin).
When I exited the line, Joey, Mom and the Geigers were waiting for me. From there we caught a bus that (very round aboutly) took us to the Duomo. The front of the huge gothic church was, unfortunately, covered in scaffolding, but the inside was very impressive. They have a strict dress code (no short shorts, bare shoulders, or low cut tops) and there are Carabinieri officers standing outside assessing people as they enter. Mom and Rita both had exposed shoulders so they had to by shawls from a nearby vendor (how convenient) to cover themselves before they could enter. After checking out the Duomo we grabbed dinner and walked back to the train station. Mom, Rita, Dan, and Tom caught the 8:30 train back to Stressa where they were staying and Joey and I passesd time until 11:30 pm when our train left for Paris.
Day 3 - Saturday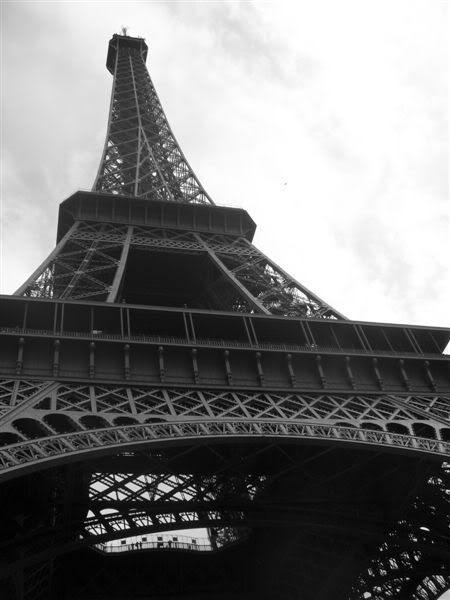 We arrived in Paris around 8:30 am, picked up a map at the information desk and went about finding our hotel. We took the Metro (Chicago should take some lessons from the paris metro - it's really nice) to the center of the agrondisement where our hotel was located (paris is organized around "agrondisements" which are are sections of the town hemmed in by large streets), and much to our surprise, found our hotel very easily. We couldn't get into the room until 2:00 pm, but we left our packs at the desk and set off to explore paris (in a day). Our hotel was right down the street from the Opera so we started there. After that we picked up a bus that took us to the Champs De Elyses where we snapped a few shots of the Arc De Triumph and had lunch. After lunch we hopped back on the bus which took us down the Avenue of Woodrow Wilson past a statue of George Washington to a sqare just opposite the Eiffle Tower. We walked back down the avenue to the Museum of modern art.
It was very intersting to observe Joey at the museum. He's never really been much of an academic, but he's really taking to his fine arts education. He had out his sketch book and was writing down names and taking notes on several of the works. He also gave me background on a half dozen or so artists/works that he recognized - apparently everybody associates cubism with Picasso but DeRain and Barick were actually the first artists to employ the method (there were examples of all three artists in the collection). During the bus ride he also pointed out some examples of Art Nouveau metal work which he said is characterized by "its fear of negative space".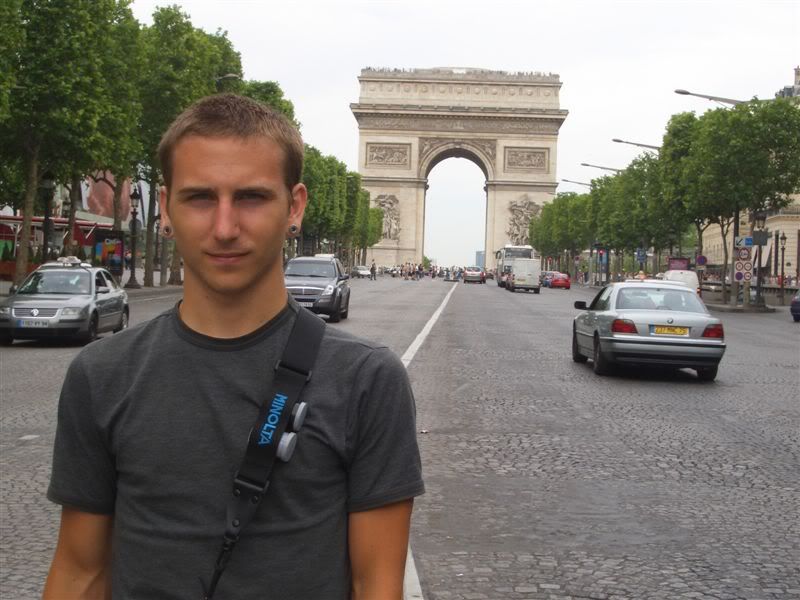 After the Museum we walked back to the Eiffle Tower for a few more pictures and a bus ride back to the opera (at this point we hadn't showered in going on three very hot days so when we passed Notre Dame, I said "should we get off and check it out?". We both looked at each other and in unison said "nah"). We got back to the hotel around 5:30, showered, took a short nap, and headed out for dinner. We ended up eating at the Hard Rock Cafe near our hotel. Joey had the BBQ Bacon Chedder Burger, and I had the Grilled Skirt Steak. We thought that it was important to start our reintegration into the American lifestyle before actually re-entering the states.
After dinner and a few beers we headed back to the hotel for a good nights sleep in actual beds.
Click on an individual photo to see full size.
Day 4 - Sunday
We woke up at 5:30 am, loaded up the packs and walked to Gare Du Nord to catch the 8:00 am Eurostar to London. Arrived in london Waterloo on schedule and after a 1/2 hour underground ride to Heathrow, were ready to attempt our final connection. When we picked up our seating cards the lady at the ticket counter said our chances looked pretty good, and that first class was pretty open so we might even be able to get that. We went through security and were directed to the "fast track" area where we breezed through the security check in less than 5 minutes.
Not sure what happened in the succeeding 3 hours, but when we arrived at the gate it was crowded with standby passengers who had been bumped from the previous two flights. So, 27 days into our trip, we experienced our very first missed connection. After the full plane departed we got our seating cards for the 4:50 flight and were told that we would have to go back to the departure lounge to wait for the gate assignment. For those of you who haven't had the pleasure of traveling through Heathrow, they have a very (as far as I know) unique set up. All passengers wait for their flights in an expansive "Departure Lounge" that contains a full on mall with upscale shops (Gucci, Cartier, etc..). Gates are not assigned until about an hour before the flight is to depart at which point you need to exit the departure lounge and walk about 20 minutes to the gates. If you arrive at a gate and need to make a connecting flight or (as in our case) you don't make a flight and need to catch another one, you are routed back through the departure lounge. The kicker is that you have to go BACK THROUGH SECURITY to get there - and there is no "fast track" for the flight connections security. The line for security if straight was probably 500 feet long. We received our seating card at 2:30 pm for a flight that was to board at 4:05. We walked from the gate through the flight connections area to the departure lounge and directly back to the departure gate where we arrived just as boarding was to begin. Luckily we got seats (albeit in coach) and at at 4:50 we were in the air and homeward bound.
We arrived in Chicago, around 7:30 PM breezed through customs hopped on the EL and were back home by 9:00 pm. And that, as they say, is that.